A Halloween Night Report by Harley the Ghost. Take it Harley:

The scary pumpkin or the new Harley's Jack O'Lantern as it's also called here, literally planned its own scary face for Mom. I saw it happen. It was blank, then it showed the face to us out in the kitchen. Very spooky lol in fact it was downright fangtastico !!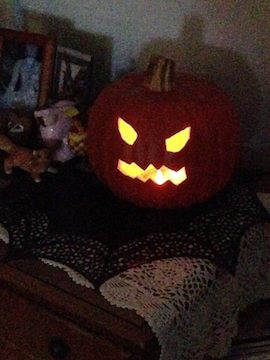 Scary Internets lol said Chris Hardwick tonite to our man Paul Bettany and Kevin Smith the funny guy, too! During the mayhem of The Talking Dead (about the JSS episode), my little meek and sad little Apache T reminded us that is his costume (like Carol the homemaker lol!). He braved the new face of the scary mean Jack, and ran right by it! Not scared at all! (well maybe just a little bit) lol, but that did not stop him from doing that, or anything else he wants to these days! Go Apache T!